In Memory
Michael J Thompson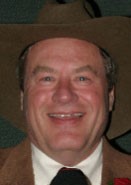 Our beloved son, husband, father, brother, papa and friend went to be with his Lord and Savior on Friday, Oct. 8, 2010. He fought a brave 17-day battle with cancer. Mike was 61 years young and "the best in my age group," he would say.
Michael was born in Riverton, Wyo., on Aug. 12, 1949, to James and Ramona Thompson. He was the oldest of six children. He went to Trinity Lutheran School and Billings West High School, where he was passionate about wrestling and music. He joined the Marines at 17 and served in the reserves for six years. He graduated from Concordia College in Seward, Neb. in 1975.
Mike met the love of his live, Mavis, at a Mount Olive young adults group and they were married for 38 years on Aug. 5. They have three children who have all married, Shawn and Tessa Thompson, Brock and Rebekah Williams, and Mark and Rachel Thompson. He has two grandchildren, Alexa and Mathias Williams, and one on the way. His animal grandchildren are Meg, Lelu, Danne, Jack and Bella. Above all, Mike loved spending time with his family. His pride for us all was felt every day of our lives and will live on in all of us.
As a boy he loved going to his grandpa's sheep ranch in the mountains of Wyoming, fishing with his dad and brothers, and helping with the sheep herd in the summers. This is where his deep love for nature and fishing were born. After graduating college, he joined AAL and sold insurance for about 15 years. He went to work for Thompson Pools with his brothers Don and Darrel. Mike always said, "we're the good, the bad and the ugly. Guess which one I am?"
Mike enjoyed many things: fishing, camping, cooking with family, singing and playing the guitar. His greatest joy came from playing with Alexa and Mathias or, "having the grandkids baby-sit us," as he would say. He was an MOA umpire for over 10 years after volunteering while his kids were in Little League. He always had a smile on his face, a twinkle in his eye, and a new joke to tell. His laughter was contagious. His love for everyone was endless.
We are at peace to know that you are rejoicing with the Lord in Heaven. Your faith in the Lord was the foundation for our family and gives us strength during this difficult time. We selfishly wish you were still here with us and we will always miss you. Thank you for being the man you were and for always being our number one fan in life. You have made a lasting imprint on our lives and we will always cherish the time we were given with you.
Michael is survived by his wife, Mavis; his parents, Jim and Mona; mother-in-law Kathleen Brand; three children, Shawn and Tessa, Rebekah and Brock, and Mark and Rachel; two adoring grandchildren, Alexa and Mathias; five brothers and sisters, LaRae and Geoff Talafuse, Don and Jan Thompson, Sue and Ron Going, Cindy Hein, Darrel and Karen Thompson; and countless extended family and friends. He is preceded in death by his father-in-law, Reuben Brand; and brother-in-law, Bruce Hein.
The casket is open at Michelotti-Sawyers on Sunday, Oct. 10, from noon to 8 p.m. for visitation. Funeral services will be held at 12:30 p.m. Monday, Oct. 11, at Mount Olive Lutheran Church. Interment with military honors will follow at Sunset Memorial Gardens.
Memorials can be made to ZooMontana or one of your personal choice in honor of Mike.